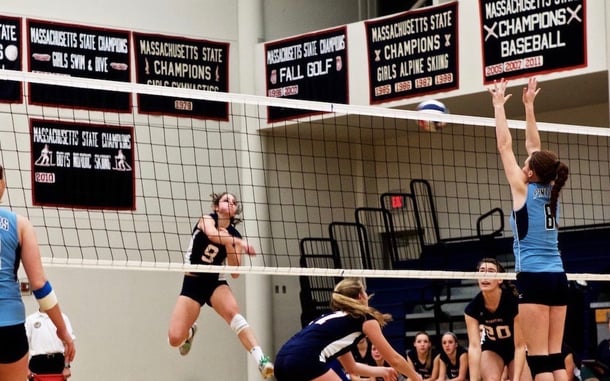 One of the best outside hitters playing in the NWCVL right now, and arguably one of the best volleyball players around Boston, Alex Braverman is the current president for the Boston University Women's Club Volleyball program. As someone my own team plays against almost every tournament, Alex has done her fair share in giving me grey hairs. A player with an all-around skill set and an incredible ability to power swing to any part of the court, she is the type of player you love to have but hate to play against. Alex is from Sudbury, MA. She got her start in 7th grade, when her dad Michael (who is an incredible athlete in his own right) grabbed a volleyball lying around the garage and started tossing it to her. After that, Alex just got better and better. She has played for Lincoln Sudbury High School, CMASS Juniors, SMASH Volleyball, and spent one year at Whitman College before transferring to Boston University. In high school, Alex was selected as an All-Scholastic player and a Mass All-Star. I sat down with Alex during a tournament at UMASS Amherst, where her BU team (unfortunately) downed my Northeastern squad in the final match, to ask her a few questions. Check them out below!
Playing
Q) What skill was hardest for you to learn?
A) "Serve Receive. I think its really hard to go from a standing position and move to where the ball is going. Tracking the ball is just a really tough thing to do consistently."
Q) What position besides yours do you wish you could play?
A) "I wish I could be a setter. The setter is like the quarterback of the team and I like the amount of freedom you have to direct where the ball can go on every play."
Q) What is your favorite thing about your position?
A) "The thing about outside hitting I like the most is getting the kills. I also really appreciate the amount of athleticism it requires. The amount you need to move and jump, it's a very dynamic position that asks a lot from the people who play it."
Q) Do you have a favorite playing memory?
A) "Warming up for matches in high school during the playoffs. There were always tons of people in the crowd, all my friends would come, and then that one song would come on that the team would always get hype to (Club Can't Handle Me by Flo Rida). It was just such a great feeling and environment to be in."
Coaching
Q) Was there a specific person/moment that made you start to love volleyball?
A) "Coach Katalina from high school. I never had a tough coach that really pushed me physically and mentally. She really got me to go outside my comfort zone and get my mental toughness stronger."
Q) What is the most important thing you look for in a coach?
A) "Someone who is really good at communicating. Being able to tell you what to do without sounding like a hard ass, but still being able to push you and get the point across while being positive."
Q) Is there a particular coach or mentor you had in the past you would like to give a personal shoutout to?
A) "Coach Helm at Whitman College. He had that great communication quality while being able to push you at the same time. He treated volleyball like a family which I really liked and he made sure everyone was always included, doing their best, and always enjoying it."
Team
Q) What is the most important characteristic you think a team should have?
A) "Being able to come from behind and win is really important. The ability to still see a win even though it is not happening right at that moment, and everyone being on the same page saying we can still win this, I think is really huge."
Q) What traits does the BU team have that you think are the most unique?
A) "We have this energy off the court which I think is really helpful for when we get on the court. We always have these dance parties during warm ups where we get really hyped which really helps us play our best."
Q) Is there a particular teammate you would like to give a shout out to, why?
A) "Dani our setter. She is really good at staying calm on the court. As a setter you have a lot of responsibility and sometimes you have to take responsibility for things that aren't necessarily your fault. She is really good at staying accountable and still directing and taking charge."
Leadership
Q) What has the transition to president status been for you?
A) "It has been really different, I was never really the leader type which is why I went for it. My biggest thing is that I have to remember to do everything for the team as well as myself. I like playing well of course because I like to feel good about that, but I have to remember that my play affects the team as well."
Q) The president before you, Kevyn Garcia, what do you admire most about her?
A) "The dance party thing. She didn't care if she looked like a freak. She would go out and play the music, invite everyone to the circle, and get everyone going. She has that extra outgoing factor that I am still learning."
Q) One last chance to say anything meaningful to your team.
A) "Theres always a way that we can win. Sometimes I feel like we could lose sight of that but there is always a way."