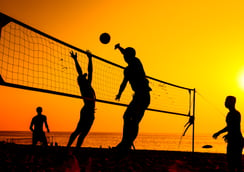 Many volleyball players on the east coast have trouble finding consistent and competitive play in their area. Boston is no different. If you are new to the area and wondering "Where do I play volleyball around Boston?", do not be worried! Despite being a city obsessed with the big four sports (baseball, basketball, football, hockey) there is a decently sized and dedicated community of volleyball players and facilities. Many are accessible with public transportation, or are easy to drive to and have parking availability. Whether you prefer beach volleyball, indoor volleyball, or grass volleyball, there are places to play for you!

1. Cambridge Rindge & Latin School (Indoor 6s)

Every Friday night the Cambridge Rindge & Latin School hosts pickup in their school's gym. There is a small fee per player (usually $5 or $10) and the level of play is very competitive. The people who go are regulars so the atmosphere is friendly and familiar. It is easier to show up with a full team ready to go, but if you go alone the people there have no issue letting you tag along. When it comes to playing indoor volleyball around Boston, this is one of the best and most consistent options there is.

2. Good Harbor Beach (Beach Doubles)

During the summer, a small contingent sets up on the famous Good Harbor Beach in Gloucester, MA to play beach doubles. Only a 45 minute drive from Boston, Good Harbor provides a clean and gorgeous atmosphere to enjoy the sport. There are a few areas around the beach that provide free street parking if you get there early enough, and if you are not there are a few parking lots you can pay to use. A short walk away are also great restaurants for ocean favorites like fried clams and lobster if you work up an appetite playing volleyball at this Boston area jewel.

3. Carson Beach (Beach Doubles)

With more traffic and less regulars than Good Harbor, Carson Beach is a more convenient location if you are bound to public transportation. Located in South Boston, the beach is understandably dirtier so do your due diligence sweeping for broken glass or other hazardous material wherever you plan to set up your net. There are a couple smaller parking lots available on the beach that fill up quick, so it is likely you will need to search for street parking. You may need to do a few laps but if you get there early or keep a sharp eye you should not have too much trouble.

4. Boston University FitRec (Indoor 6s)

Sitting right on the B-Line in the Boston neighborhood of Allston, the BU FitRec has a volleyball net up 24/7 in the upstairs gym. Most Friday nights during the school year a good amount of people get together to play. The competition ranges a little more than Cambridge with some very strong players mixed in with casual players, but every can usually hold their own. If you are not a member, it is a $12 entry fee which will give you access to the entire facility for the day. Afterwards if you are hungry, the Boston University strip of Commonwealth Avenue offers a huge range of excellent restaurants along with a great beer selection if you fancy something extra.

5. Newton Center Playground (Grass Doubles)

Throughout the year, the Boston Volleyball Association hosts tournaments on Saturdays and Sundays at the Newton Center Playground about 15 minutes driving from Boston University. It is also accessible through the Newton Center stop on the D-Line of the MBTA. The tournaments are divided by the skill level each team signs up for, and also offers mens, womens, or co-ed volleyball divisions. The tournaments last all day, and there are plenty of places to grab food around the corner in the vibrant Newton Center shopping area.

We are always finding out more places for great play, subscribe to our blog below to stay updated or

click here

check out one of our other blog posts about the best places to train for volleyball around Boston!